Online Al-Anon Chat Meetings
For the friends and families of alcoholics.
---
Come Join Us in Chat!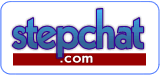 Our Al-Anon Family Group chat meetings at the StepChat.com site are conducted much like face-to-face meetings. A chairperson facilitates each meeting and "reads" the opening and closing statements, chooses a topic, and calls on members to share.

If members wish to share on the topic, they "raise their hand" by typing an exclamation point: ! And when they are finished sharing, they type DONE so that they chairman will know they are finished.

To share during a meeting, just type short sentences in the text box and hit the Enter button on your keyboard or click on the send button.
How to Log On
The first time you visit StepChat, you will need to register. Just click on the word "Register" on the login screen (see screenshots here) and you can choose your username and your password. Click on the Register button at the bottom of the form, type your password again and enter the chat room immediately.

You will be logged on to The Recovery Lounge initially, click on the 3-dot menu icon at the top left, and then click on "Al-Anon Meeting."

Complete Chat Schedule
An up-to-date list of current meetings.

Back to Online Al-Anon Outreach
---